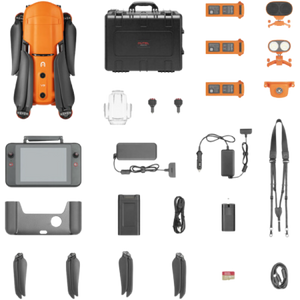 Includes
Autel Robotics EVO II Pro Enterprise Drone
Autel Robotics V3 Smart Controller
2 x Spare Aircraft Battery
Aircraft Battery Charger with Power Cable
Controller Charger with Power Cable
1 Pair Spare Controller Sticks
Smart Controller V3 Protective Case
Chest Strap
Accessory Interface Cover
2 Pairs Spare Propellers
Battery Charging Hub
Car Charger
Carry Case
Documentation
Autel Robotics 1 Year Limited Warranty
Moonlight Algorithm 2.0
When shooting at night, the Moonlight Algorithm 2.0 offers noise reduction processing when dealing with harsh or low-light conditions.
Smart Controller V3 with SkyLink 2.0
Utilizing SkyLink 2.0, the Smart Controller V3's built-in 7.9″ display can receive HD video transmission in flight from up to 9.32 miles away (or QHD quality from up to 0.62 miles away). Reception is engineered to be stable and interference-free, thanks to triple-band (900 MHz, 2.4 GHz, and 5.8 GHz) frequency-hopping. Thanks to the display's 2000 cd/m² brightness, you can easily view the drone's footage, even in direct sunlight. You're not restricted to flying on sunny days, though. The Smart Controller V3 can withstand -4 to 104°F temperatures and is IP43-rated for all-weather performance.
360-Degree Obstacle Avoidance
While in flight, an array of 19 sensors, including 12 visual sensors, the main camera, ultrasound IMUs, and more, can build a 3D map of the drone's surroundings and reduce blind spots so the drone can automatically stop before hitting an obstacle.
Sturdy and Portable
The EVO II Pro 6K can be folded into a compact size that's easily stored or transported from location to location. When unfolded, the drone's frame can handle demanding conditions, thanks to the long carbon fiber arms and propellers and the integrated thermal vents that assist with heat dissipation and prolonged battery life.
ADS-B Signal Receiver
This receiver detects the presence of manned aircraft nearby and notifies you with an emitted signal, giving you the time needed to avoid mid-air collisions.
Additional Features
Built-in mission planning

Up to 16x digital zoom and 3x lossless zoom

Up to 42 minutes of flight time
Maximum ISO of 44000
Up to 39 mph of maximum wind resistance
Maximum flight speed up to 45 mph
Compatible with optional Live Deck 2 for broadcasting live mission intel
Compatible with optional Pix4d, Drone Deploy, and Skyebrowse software
Centimeter-level positioning and mapping are possible with an optional RTK module