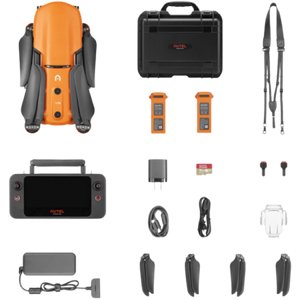 Includes
EVO II PRO Aircraft
Smart Controller SE
Pair of Spare Propellers
Spare Aircraft Battery
Battery Charger with Power Cable
Controller Charger with Power Cable
Chest Strap
Pair of Spare Controller Sticks
Hard Case
Documentation

Autel Robotics 1 Year Limited Warranty
Moonlight Algorithm 2.0
When shooting at night, the Moonlight Algorithm 2.0 offers noise reduction processing when dealing with harsh or low-light conditions.
Smart Controller SE with SkyLink 2.0
Utilizing SkyLink 2.0, the Smart Controller SE's built-in 6.4″ OLED display can receive HD video transmission in flight from up to 9.32 miles away. Reception is engineered to be stable and interference-free, thanks to triple-band (900 MHz, 2.4 GHz, and 5.8 GHz) frequency-hopping. The robust design of the controller lets it withstand -4 to 104°F temperatures, and it's IP43 rated for all-weather performance. Conveniently, you can tweak the remote's capabilities to your liking with optional 3rd-party apps that are powered by built-in 8-core processing.
360-Degree Obstacle Avoidance
While in flight, an array of 19 sensors, including 12 visual sensors, the main camera, ultrasound IMUs, and more, can build a 3D map of the drone's surroundings and plan a clear path to its destination in real time.
Additional Features
Up to 39 mph of maximum wind resistance
Maximum flight speed up to 45 mph
Up to 16x digital zoom and 3x lossless zoom
Up to 40 minutes of flight time
JPEG/RAW formats supported
Maximum ISO of 44000
Removable remote battery
Compatible with optional Live Deck 2 for broadcasting live mission intel