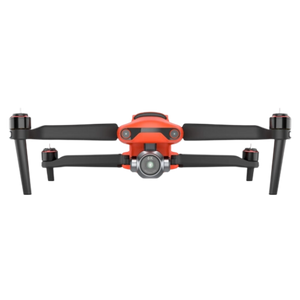 Includes
1 x EVO II V3 Aircraft w/ Pro 6K Camera
1 x RTK Module
3 x Flight Batteries
1 x 7.9" Smart Controller
3 x Pairs of Propellers
1 x 110V Wall Charger
1 x 12V Car Charger
1 x Smart Controller Charger
1 x Smart Controller Charging Cable
1 x Chest Strap
1 x Gimbal Cover
1 x 32GB SD Card
1 x Spare Pair of Controller Sticks
1 x Hard Rugged Case
The EVO II RTK Series leverages a high precision, RTK module, supports PPK and time synchronization, and is not limited by communication links or network coverage. 
Centimeter-level Mapping
The integrated RTK module provides various industries, such as agriculture and construction, with centimeter-level positioning and mapping of large areas from the air. The module is capable of horizontal accuracy of 1 cm + 1 ppm and vertical accuracy of 1.5 cm + 1 ppm. Obtaining this data takes only (approximately) 3 minutes, but for complex and interference-prone areas, you can use the EVO II Pro with optional NTRIP RTK base stations and network to improve mapping accuracy and stability in data acquisition. 
When using an NTRIP network, no GCP is needed, as the drone connects directly to the network. The drone records the original satellite observational data, camera exposure, and more, and it supports PPK post-processing to adjust the accuracy of your collected data.
Autel Explorer for Mapping
With Autel Explorer, you can use the EVO II Pro V3 drone to complete mapping missions using a variety of features and functions. 
Multi-NTRIP profile saving: This allows the drone to restart a mission after a battery change from where it left off.
Photo replication: You can save all of the gimbal, camera, and drone movements, producing a full record of a mission that can then be repeated.
Multi-battery missions: Create and save multiple NTRIP profiles for different locations without having to manually input account info for each flight.
Create rectangular or polygon mapping missions
Supports double grid mapping for additional angles
Gain complete manual control over camera settings
Nonstop turning on corners saves time and battery life
Customizable course headings to meet orientation requirements
Smart Controller V3 with SkyLink 2.0
Utilizing SkyLink 2.0, the Smart Controller V3's built-in 7.9″ display can receive HD video transmission in flight from up to 9.32 miles away (or QHD quality from up to 0.62 miles away). Reception is engineered to be stable and interference-free, thanks to triple-band (900 MHz, 2.4 GHz, and 5.8 GHz) frequency-hopping. Thanks to the display's 2000 cd/m² of brightness, you can easily view the drone's footage, even in direct sunlight. You're not restricted to flying on sunny days though. The Smart Controller V3 can withstand -4 to 104°F temperatures and is IP43-rated for all-weather performance.
360-Degree Obstacle Avoidance
While in flight, an array of 19 sensors, including 12 visual sensors, the main camera, ultrasound IMUs, and more, can build a 3D map of the drone's surroundings and plan a clear path to its destination in real time.
Additional Features
Level 8 wind resistance
Up to 16x digital zoom and 3x lossless zoom
Up to 38 minutes of flight time
Maximum ISO of 44000
Compatible with optional Live Deck 2 for broadcasting live mission intel
Can be flown even if the firmware and app are not fully updated
Without built-in fly zones, nothing prevents you from taking off when needed