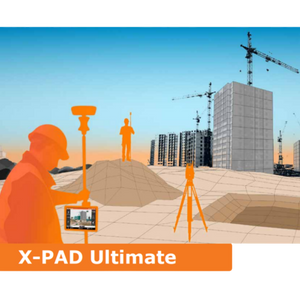 Main Module Versions
- X-Pad Ultimate Build GNSS includes all the functionality for survey, stakeout and control with a GNSS receiver. 
- X-Pad Ultimate Build TPS includes all the functionality for survey, stakeout and control with mechanical total stations.  
- X-Pad Ultimate Build Premium includes GNSS and TPS, and extends the TPS module to include full control of motorized and robotic total stations.
Module Options
- X-Pad Ultimate Build Volume:  Create and import 3D surfaces to be used for all stakeout operations.  It includes functions for the calculation of the volumes according to different methods.
- X-Pad Ultimate Build TPS Robotic:  Extends the TPS main module with features that allow full control of motorized and robotic total stations.
- X-Pad Ultimate Build X-Pole:  Flexibly work with TPS and GNSS at the same time, by using the best features of each system.
- X-Pad Ultimate Build GIS:  Define GIS features and attributes to be assigned to measured points. It includes import and export functions of GIS data.
The Ultimate solution in the field
X-PAD Ultimate is a tailored, flexible, modular, ideal, customized software for high end topographic tasks, such as measure, stake-out, cadastral, BIM check and control, roading, mapping, bathymetry and GIS. Running on AndroidTM, it brings the best technologies to topography. X-PAD Ultimate ensures productivity in the field and provides perfect integration between measuring instruments. Available in two versions, one dedicated to the professional surveyors and one dedicated to construction companies, X-PAD Ultimate offers to both a specific working environment and a set of dedicated features.
X-PAD Ultimate is the most advanced field software solution for all users that are looking for a tool that grants productivity, easiness of use, scalability and full control of the data. Running on Android devices, X-PAD Ultimate brings the best technology directly to the field and on your hand: a full 3D viewer and CAD system to view and edit the drawings, integration of your data with all map types and support of the camera for augmented reality. Direct data exchange with a cloud platform for direct connection between field and office, the use of all sensors for a better experience in the field, voice commands to control the operations without the use of the hands are the key features to make your work efficient. With X-PAD Ultimate you can be sure that TPS and GNSS products and many other sensors are fully integrated in your application workflow. It is available in two tailored versions: X-PAD Ultimate Survey for surveyors and X-PAD Ultimate Build for construction professionals.
Survey
X-PAD Ultimate Survey is the best solution for professional surveyors that need accuracy, complete features, flexibility, data integration, scalability and the latest technologies in the field. With a set of different modules, X-PAD Ultimate Survey covers all the needs in the field using TPS and GNSS instruments.
Build
X-PAD Ultimate Build is the ideal solution for all your construction measuring and layout needs. It combines data collection from the total station or the GNSS, allowing you to perform the measurement, stakeout and as-built with simple and functional procedures. X-PAD Build is a special and tailored version of X-PAD Survey, from which inherits all the main features and functionalities, but differs because it is specifically addressed to construction companies. To use X-PAD Build you don't need to be a surveyor; all procedures are guided and can also be used by those who use this type of equipment for the first time.