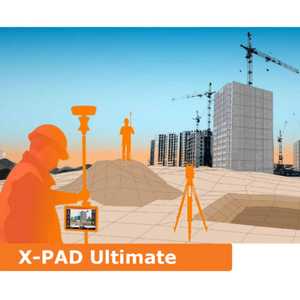 Module Options
- X-Pad Ultimate Build Volume:  Create and import 3D surfaces to be used for all stakeout operations.  It includes functions for the calculation of the volumes according to different methods.
- X-Pad Ultimate Build TPS Robotic:  Extends the TPS main module with features that allow full control of motorized and robotic total stations.
- X-Pad Ultimate Build X-Pole:  Flexibly work with TPS and GNSS at the same time, by using the best features of each system.
- X-Pad Ultimate Build GIS:  Define GIS features and attributes to be assigned to measured points. It includes import and export functions of GIS data.
Build
X-PAD Ultimate Build is the ideal solution for all your construction measuring and layout needs. It combines data collection from the total station or the GNSS, allowing you to perform the measurement, stakeout and as-built with simple and functional procedures. X-PAD Build is a special and tailored version of X-PAD Survey, from which inherits all the main features and functionalities, but differs because it is specifically addressed to construction companies. To use X-PAD Build you don't need to be a surveyor; all procedures are guided and can also be used by those who use this type of equipment for the first time.