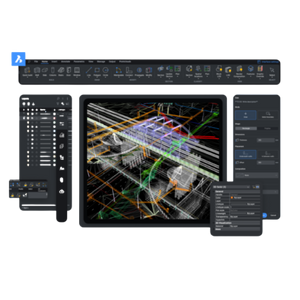 BricsCAD Pro includes 2D drafting tools, 3D modeling tools, point cloud support and more.  Add MicroSurvey SurveyTools for increased functionality. 
Familiar and compatible CAD
BricsCAD is entirely based on the industry-standard DWG format, with full command, script, macro, and menu compatibility. BricsCAD feels like home!
Point Cloud Visualization
BricsCAD uses an improved data representation to speed up the performance of point cloud display, using half the disk space versus the point cloud source files. Point clouds in .ptx, .pts, .las and .rcp formats are pre-processed to our .vrm project file format in the background, on your machine. There is no productivity loss as you can continue working during the caching process.
Powerful variational 3D modeling
Our unique approach to 3D design combines the best of unconstrained direct modeling and parametric design worlds.
You're free to express your creativity at the early design stage through dynamic direct modelling, interactively manipulating solid and surface geometry as you move your mouse. As the design evolves, you can add more dimensional control, or even fully parameterise the design, automatically, and all without the complexity imposed by a history-based approach.
High performance graphics engine
In each new version of BricsCAD, we strive to improve display performance. Enjoy smooth zoom and pan operations in drawings containing hundreds of thousands of entities. BricsCAD uses the Redway3D graphics system to deliver great display performance for 3D graphics.
BricsCAD®
 

Pro is highly compatible with AutoCAD®

 

2022
To move to BricsCAD, users do not need to change printers, templates, blocks, or sheet set layouts – they are fully compatible. Command names, aliases, and system variables are the same in BricsCAD as in AutoCAD®. BricsCAD is built on native DWG for the highest compatibility with other CAD users across all industries.
Menu (.CUI, .CUIX) compatible
Support file (.PC3, .LIN, .PAT, .DWT, .SSM) compatible
Based on 2018 DWG technology
AutoLISP and API support
BricsCAD fully supports LISP, slashing the time it takes to do repetitive drafting tasks. It's compatible with AutoCAD® AutoLISP format, making it simple to re-use existing routines. It also features a powerful API, providing a platform for many industry-specific independent applications.
MicroSurvey SurveyTools Module
SurveyTools™ for BricsCAD® combines the powerful surfacing and point cloud tools from BricsCAD® with a complete suite of survey tools for land surveyors from MicroSurvey.
Reduce workflow friction with surfacing and contour creation in the same environment that the end-deliverable is drafted in.
Linework and block generation from point descriptions (or import linework created in the field), COGO, surveying focused dynamic labelling, geodetic tools.
Users can accelerate their productivity with industry-specific tools developed by surveyors, for surveyors while also benefiting from BricsCAD's AI-driven drafting tools.
The SurveyTools solutions offers a complete audit trail for values derived from computations and field data while the tools intelligently use data to create accurate and precise CAD deliverables.