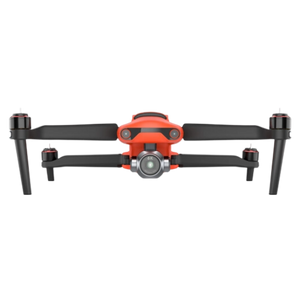 Includes
The EVO II RTK Series leverages a high precision, RTK module, supports PPK and time synchronization, and is not limited by communication links or network coverage. 
Centimeter-level Positioning
It integrates a new RTK module, which provides real-time centimeter-level positioning data and supports Post-Processing Kinematic (PPK). The aircraft can record the original satellite observation data, camera exposure parameters, and various other data. The positioning system supports an A-RTK base station and RTK network, which help provide stable, accurate data acquisition in complex operation environments.
Light. Efficient. Reliable.
The foldable design makes it compact, light, portable, and ready to fly in just a matter of seconds. Alongside a 5.5-mile maximum transmission range, the aircraft offers a flight time of up to 36 minutes and can reach a top speed of up to 45 mph, making it the perfect flying companion for your daily missions.
Mission Execution with Advanced Intelligence
It provides users with a full range of intelligent features and solutions to suit a variety of mission needs. Using advanced flight control and the latest AI technology, the aircraft can significantly improve mission workflows and help reduce operating costs.
Photo Replication
For repeatable data acquisition missions, you can record the drone's previous shooting positions. All the gimbals, camera, and aircraft movements will be replicated, thus producing a full record of the entire mission.
Omnidirectional Sensing & Obstacle Avoidance
Comes built in with a 6-directional sensing system that provides the aircraft with obstacle avoidance capabilities in all directions to enable a safer flight.