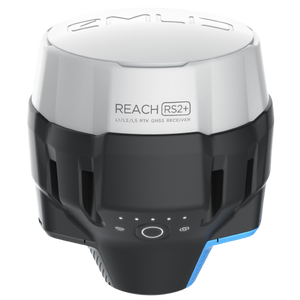 The Emlid Reach RS2+ can operate as a base station or a rover simply by changing the settings.  The RS2+ may be run as a network rover off an NTRIP service, or base/rover setup over internal radios.  The internal radios allow you to set ground control points with no internet access needed. 
The Reach RS2+ as a base station can operate in a number of different ways:  
-  Storing RINEX data for applications such as GNSS/INS post processing for drone LiDAR data.
-  Used to collect control points with OPUS or other PPP processing.
-  Sends corrections to another Reach RS2+ using internal radios. 
-  Broadcast corrections over the internet to any brand receiver, including Trimble, Spectra, Leica, Topcon, Sokkia, and GeoMax.
-  Connect to a variety of different brand receivers by using an external radio.
-  More options are available.    
More information on the Reach RS2+ 
The Reach RS2+ Base Station Kit Includes:
Customized setup based on your application
1 x Emlid Reach RS2+ 
1 x Carbon Fiber Tripod and Removable Rod or Heavy Duty Fiberglass Tripod, Tribrach with Optical Plummet, Tribrach Adapter, and Extension Pole